Efficacy testing of wood preservatives
Efficacy against wood destoying fungi
Determination of toxic values against basidiomycetes and soft rotting fungi after full impregnation (EN 113, ENV 809)
Determination of preventive efficacy against basidiomycetes after surface treatment (ENV 839)
Determination of efficacy depth against basidiomycetes by planing off (DIBt test guidelines)
Determination of the durability of wood-based panels against basidiomycetes (ENV 12038)
Determination of the efficacy of preservatives against overgrowing by Serpula lacrymans from masonry to wood (ENV 12404)
Long- term efficacy in ground contact according to BAM- Schwammkeller method
Field trials of all types with and without ground contact:

Double-layer test
Lap-loint test (CEN TS 12037)
L-joint test (EN 330)
Stake test (EN 252)
Preservatives against sapstain on freshly cut wood (CEN/TS 15082)
Natural preconditioning (CEN/TS 15397)

Determination of the durability of modified wood / wood plastic composites against basidiomycetes
Efficacy testing of film-preservatives against fungi in coating materials
Efficacy against wood-staining fungi and algae
Determination of the protective effectiveness of a treatment of wood in service against blue stain according to EN 152
Determination of the effectiveness of treatments against blue stain, mould and algae by lab and field tests
Efficacy against insects
Determination of toxic values against larvae of Hylotrupes bajulus, Anobium puncatum and Lyctus brunneus after full cell impregnation (EN 47, EN 49-2, EN 20-2)
Determination of preventive efficacy against larvae of Hylotrupes bajulus, Anobium puncatum and Lyctus brunneus after surface treatment (EN 46, EN 49-2, EN 20-1)
Determination of efficacy depth against insects by planing off (DIBt guidelines)
Determination of curative efficacy against Hylotrupes bajulus and Anobium punctatum (ENV 1390, EN 370)
Determination of the efficacy of preservatives against termites (Reticulitermes santonensis, Mastotermes darwiniensis, EN 117, EN 118)
Fast testing
For fast testing of potential actives and formulations regarding fungicidal or insecticidal efficacy we offer numerous screenings. They are permanently beeing improved and they excel by speed, reliability and reproducibility of results.
Examples:
Hylotrupes-screening (3 weeks)
Termite screening (4 weeks)
Basidiomycete-screenings (4 resp. 8 weeks)
Fungicide-screening (gas-liquid or solid phase: 1-2 weeks)
Consulting
We advise developers of new preservative formulations or procedures about approval requirements for wood preservatives as well as to their prospects for an approval and accompany registration/authorization procedures.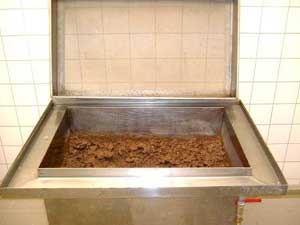 Termite - breeding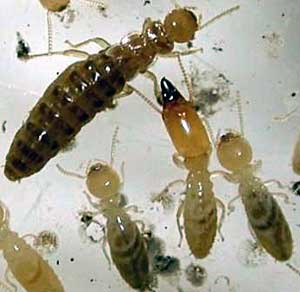 Termites (Reticulitermes santonensis): Nymph (top), soldier with strong mandibles (middle), workers (below)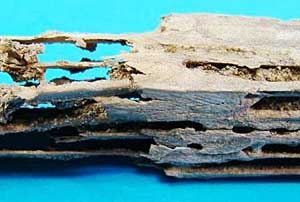 Termite feeding damage: Typical preference for earlywood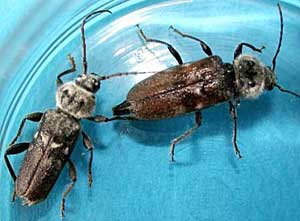 House longhorn beetles: Male (right), female (left)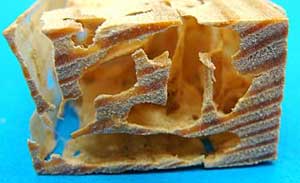 Wood damaged by larvae of house longhorn beetles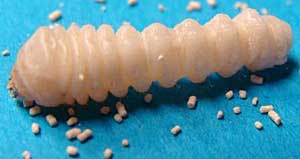 Larva of house longhorn beetle with species-typical, barrel-shaped frass particles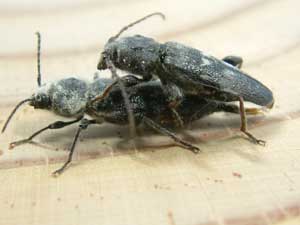 House longhorn beetle (Hylotrupes bajulus) at......

Contact
MPA Eberswalde
Materialprüfanstalt Brandenburg GmbH
Alfred-Möller-Straße 1
16225 Eberswalde
Fax: +49 (0)3334 65550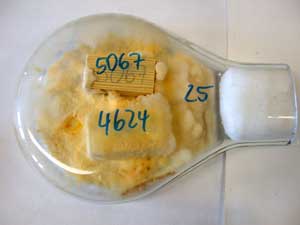 EN 113 test using Gloeophyllum trabeum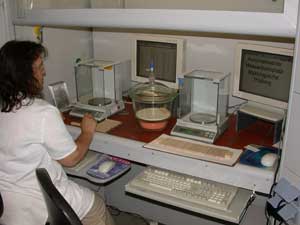 Automatized workplace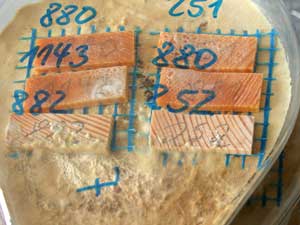 Screening test with basidiomycetes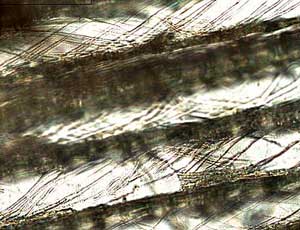 Spiralling caverns along the S2 -microfibrils of secondary walls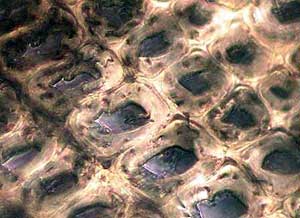 Soft rot caverns in pine-latewood (cross cut)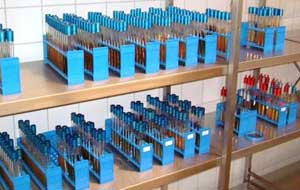 Cultures of soft rot fungi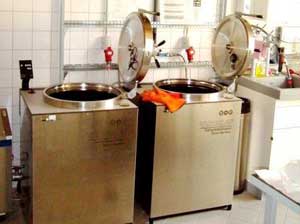 Adapted sterilization strategies: Besides gamma-radiation, dry heat and chemical sterilization, three large autoclaves are used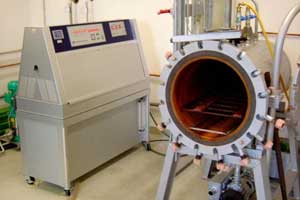 QUV- machine for artificial weathering and vacuum-pressure-impregnation plant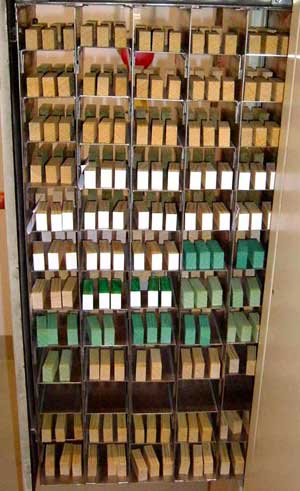 Test specimens in the wind channel, ageing according to EN 73
Entomology lab